Absalom Reid: Exploration into a Store's Customer
Sarah Ryschkewitsch // AMH4110.0M01 – Colonial America, 1607-1763
When it comes to colonial America, most people do not know the life of an average colonist. People learn about the American Revolution, all the battles fought so the colonies could break away from England, the people that made the American Revolution a success for the colonies, and the people that got their names into the history textbooks. What is left out of these textbooks are the average colonists who made a living by working for a minimal wage, those who were not seen as key figures in the Revolution. By looking at the ledger (1760-1761) from the Glassford and Henderson Colchester, Virginia, store there is a way for people to get a glimpse into the daily life of an average, middle class colonist.
On April 19, 1727, Joseph Reid and Elizabeth [Hampton] Reid had a son, Absalom, in Overwharton Parish in Stafford County, Virginia.[1] Joseph Reid was in immigrant from Glasgow, Lanark, Scotland, and Elizabeth Hampton was from Truro Parish, Prince William, County, Virginia.[2] Joseph and Elizabeth Reid had six children: Absalom, Jane, Sarah, John, Elizabeth, and Ann.[3] Absalom Reid was the oldest. He married Sarah Simpson in Fairfax, Virginia, on January 29, 1750. They had eight children by the time of Absalom's death: Jean, Elizabeth, Mary, Susannah, Sarah, Joab, John, and Margaret.[4]
Absalom Reid shopped in the Colchester store, located in Fairfax County, Virginia.[5] Based on Reid's purchases, it was evident he belonged to what was known as the middling sort then, or the middle class today. From 1760-1761, Reid bought 40 yards of osnaburg, a felt hat, three pairs of damaged stockings, a pair of thread stockings, a pair of worsted stockings, a pair of leather breeches, and women's gloves.[6] Along with clothing supplies, Reid also bought sewing supplies, such as thread, cotton, and buttons.[7] Other purchases included rum, and he also paid several hundred pounds of tobacco to the sheriff and parish collector to pay his taxes and tithes. To pay for his purchases, Reid either provided cash or tobacco–with a total of 1,085 pounds of tobacco in August worth six pounds, seven shillings, and three pence. Though he made his purchases in the store in 1760 and 1761, he didn't pay in full by the end of the ledger year and his debt carried to the following year (1762) via Liber C.[8]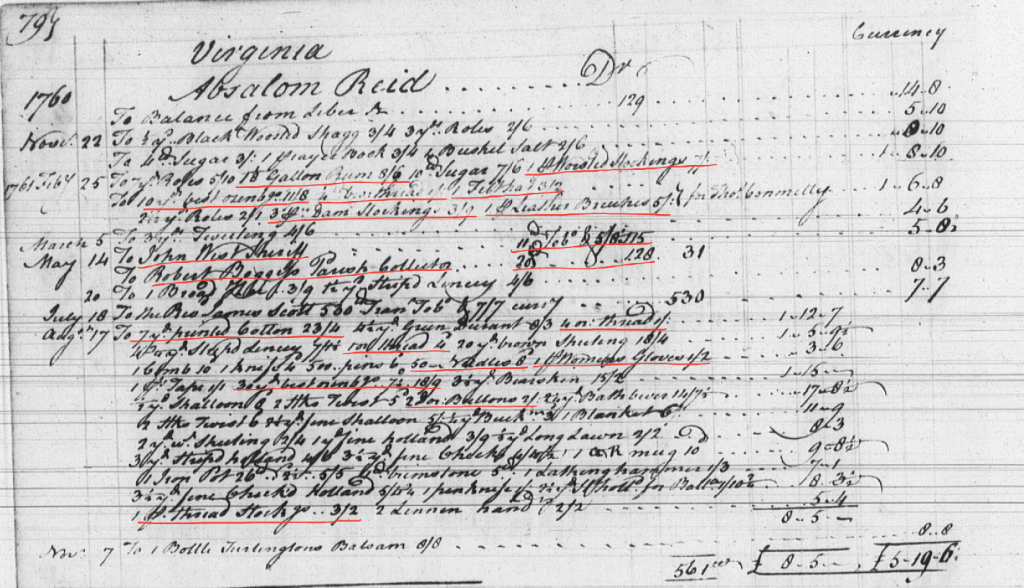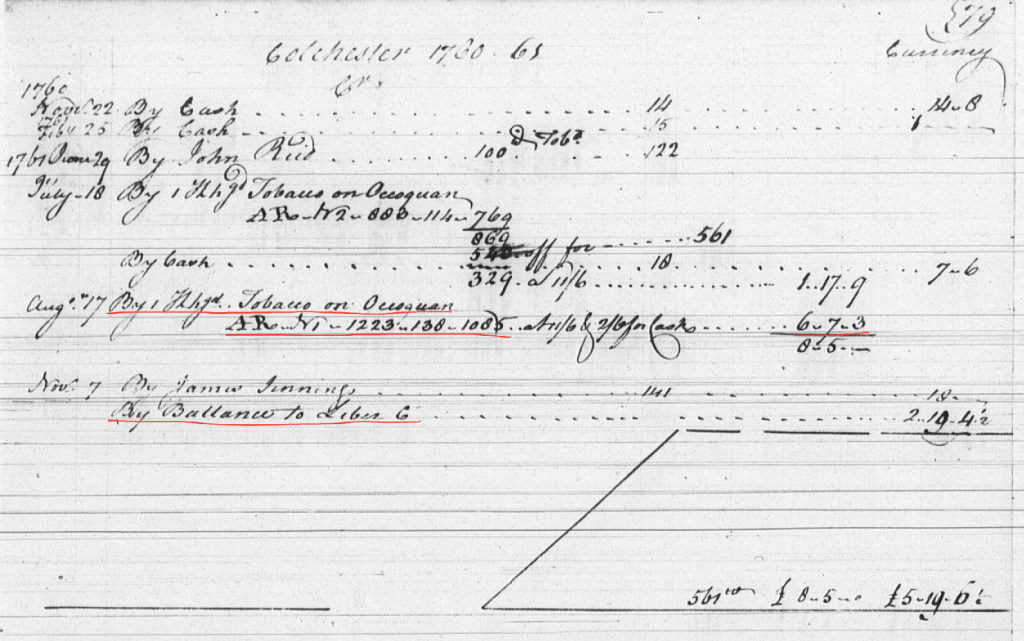 When evaluating the debit and credit ledgers, it is evident that Absalom Reid would travel to Colchester and buy the supplies he needed, as he rarely shopped more than once a month. As can be seen on the debit page of his account, most of the purchases were made in August 1761, when he also paid on his account in tobacco. Reid, as a tenant on property owned by James Scott, was able to farm his own tobacco, even if it wasn't his own land.[9] Making many purchases at once was most likely because he wanted to ensure he had most of what he needed so he didn't have to travel over twenty miles each way to the store and home more than necessary.[10]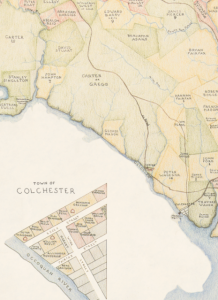 Based on Absalom Reid's frequency at the Colchester store in 1760-1761, what he was purchasing, how he paid, and the circumstances under which he had to travel, a rough outline of his life appears out of the scrawling ink of the account ledger. A man of modest enough means, Reid likely was part of what we know of as the middle class. His account at the store leaves us evidence about average life in colonial America.
[1] Overwharton Parish was designated sometime between 1664 and 1667 and was located in the Woodlawn/Mount Vernon area of present-day Fairfax County. In 1730, the Virginia National Assembly decided to create a new parish in order to serve the people better. A church was built on the banks of the Occoquan River, near what would become Fairfax, Virginia, and became known as the "church above Occoquan Ferry." In 1732, there was a further split and Truro Parish was created. Truro Parish included the church above the Occoquan. Today that church is known as the Pohick Church. Larry Brooks, "Stafford, 'This Land is Ours'," Stafford County, VAGenWeb, accessed May 31, 2018, http://vagenweb.org/stafford/tricent.htm; William Waller Hening, The Statutes at Large: Being a Collection of the Laws of Virginia from the First Session of the Legislature, in the Year 1619 (Richmond, Virginia: Franklin Press – W.W. Gray, Printer, 1819) Vol. 4 Ch. XVIII, 304, accessed June 5, 2018, http://vagenweb.org/hening/vol04-15.htm; Philip Slaughter, History of Truro Parish in Virginia (Philadelphia: George W. Jacobs & Company, 1908) 5, accessed June 5, 2018, https://archive.org/details/historyoftruropa00slau_0.
[2] Donald S. West and Lola E. Lindsey, "Descendants of Joseph Reid and Elizabeth Hampton," Descendants of Joseph Reid (1702-1749) and Elizabeth [Hampton], published 1997, accessed June 5, 2018, http://www.tbgen.com/west/reidbook.html.
[3] West and Lindsey, "Descendants."
[4] Ibid.
[5] Alexander Henderson, et. al. Ledger 1760-1761, Colchester, Virginia folio 79 Debit, from the John Glassford and Company Records, Manuscript Division, Library of Congress, Washington, D.C., Microfilm Reel 58 (owned by the Mount Vernon Ladies' Association).
[6] Henderson, et. al. Ledger 1760-1761 folio 79 Debit.
[7] Ibid.
[8] Henderson, et. al. Ledger 1760-1761 folio 79 Credit.
[9] Beth Mitchell and Donald M. Sweig, Fairfax County, Virginia in 1760: An Interpretive Historical Map (Fairfax County, Virginia: Office of Comprehensive Planning, 1987).
[10] Henderson, et. al. Ledger, 1760-1761 folio 79 Debit.