Turlington's Balsam of Life: Colonial American Snake Oil?
Andrew Abbott // AMH 4110.0M01 – Colonial America, 1607-1763
It is 1761 in Fairfax County, Virginia. You feel a pain in your abdomen that will not go away. What can you do to make the pain go away? You can go see a physician to get your ailment diagnosed and treated, if you can afford it. Alternatively, you can save money by treating your condition with Turlington's Balsam of Life.
Turlington's Balsam was a medicine created by Robert Turlington, who obtained a patent from King George II in 1744. The medicine, Turlington claimed, would successfully treat a wide variety of illnesses, including "kidney and bladder stones, colic, and inward weakness."[1]  In a time before both significant medical advancement and regulations on medicine, patent medicines such as Turlington's Balsam of Life were able to make claims that seem ridiculous or deceptive by modern standards, and the average colonial American was willing to believe in such claims. As the holder of the patent, Robert Turlington had the exclusive right to manufacture his product and sell it where he wanted, including the Colchester store of John Glassford and Alexander Henderson in Fairfax County, Virginia.

From 1760-­1761, there are at least thirteen recorded instances of customers purchasing Turlington's Balsam of Life at the Glassford and Henderson store in Colchester, with the price  ranging from four shillings and four pence to eight shillings and eight pence.[2]  This price range seems to indicate either the arrival of a new shipment from Glasgow or multiple sizes of the product for sale: there were three references to the bottle being "large."[3] By making his product in different sizes, Robert Turlington was able to sell his product to a larger number of people, especially those who could not afford to be treated by a physician.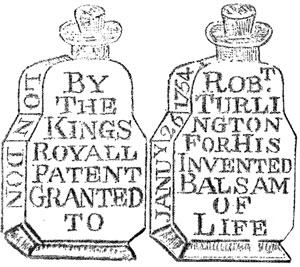 One problem with patent medicines, especially in 18th-century America, was the marketing of a different concoction under the same name as the patented product. Turlington's Balsam of Life suffered this fate, which led to a decrease in sales. By 1754, the problem with counterfeit  medicines led Turlington to come up with a clever way to ensure the consumers that they were getting his product: a pear­shaped bottle.[4] Turlington applied the same innovative spirit he used in creating his medicine in order to protect his intellectual property, which led to one of the more unique mass­produced glass containers of colonial America. In addition to the innovative bottle shape, Turlington also issued statements warning of the potential for counterfeit versions of his product, encouraging his customers to "…be extremely careful and particular, to examine unto each Bottle that he buys, that he may not be imposed upon by any pretended or false Balsam, which may be of the greatest Prejudice to the Health and Constitution of the unhappy Patient, instead of a perfect Cure."[5]
Much like today, colonial Americans sought cost-effective ways to treat physical ailments without having to take time out of their day to visit a physician. Products such as Turlington's Balsam of Life allowed them to do just that. Though they did not have access to the vast amount of readily ­available information as we do, colonial Americans knew enough about their bodies to be able to treat many physical problems without consulting a medical professional, but possibly with the assistance of "Every Man his own Doctor: OR The Poor Planter's Physician" first published in the colonies in 1734. Detractors of Turlington may have referred to him as the creator of an ineffective medical panacea, familiarly known as "snake oil," but the popularity of Turlington's Balsam of Life suggests that there were some positive results from its use.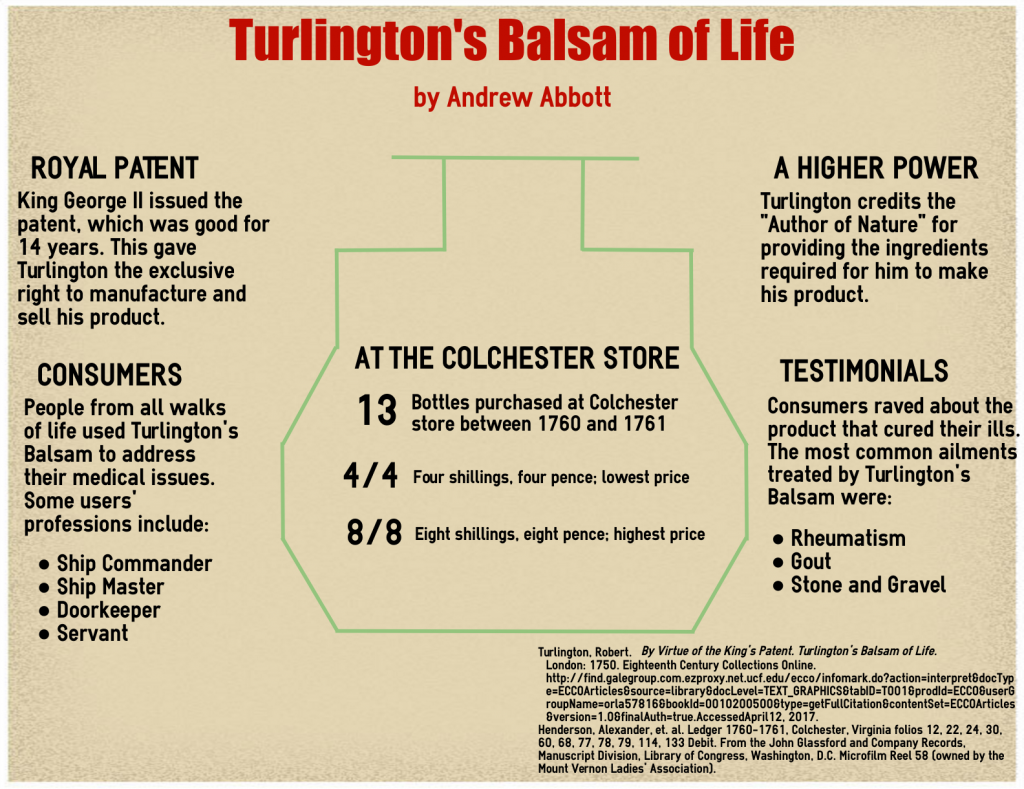 [1] George B. Griffenhagen and James Harvey Young, "Old English Patent Medicines in America," Pharmacy in History 34, no. 4 (1992): 204, accessed March 22, 2017, www.jstor.org/stable/41111487.
[2] Alexander Henderson, et. al. Ledger 1760-1761, Colchester, Virginia folios 12, 22, 24, 30, 60, 68, 77, 78, 79, 114 133 Debit and 12 Credit, from the John Glassford and Company records, Manuscript Division, Library of Congress, Washington, D.C., Microfilm Reel 58 (owned by the Mount Vernon Ladies' Association).
[3] Alexander Henderson, et. al., Ledger 1760-1761, folio 22, 24, and 133 Debit.
[4] Griffenhagen and Young, "Patent Medicines," 211.
[5] Robert Turlington, "[No Headline]," The New-York Mercury, 22 September 1760. Readex: America's Historical Newspapers, accessed November 14, 2017